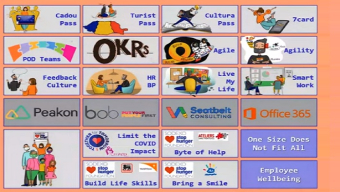 Munca hibrid și păstrarea ei ca formă de lucru și după încheierea pandemiei este un subiect ce preocupă tot mai mult companiile. Mulți lideri i-au înțeles deja avantajele, așa că modul în care aceasta va trebui inclusă ori asimilată în noua normalitate profesională ține deschisă agenda multor dicuții. Despre viitorul muncii hibrid, flexibilizare, dar și despre cum a recreionat pandemia harta organizațiilor și a retrasat nevoile și cerințele angajaților și angajatorilor deopotrivă au vorbit specialiștii invitați la cea de a opta ediție a evenimentului FAST FORWARD. ORGANIZAȚIA VIITORULUI – THE FUTURE OF EMPLOYEE EXPERIENCE, organizată în zilele de 21 și 22 aprilie 2021 de Revista HR Manager, cu sprijinul Humanistic.
Pentru cei care vor să își reamintească și pentru cei care nu au putut participa la evenimentul live, prezentăm succint cele mai importante idei desprinse din prezentarea susținută de Felicia Georgescu, Head of Human Resources and CSR, Sodexo Pass Romania.
Tema pe care aceasta a abordat-o a fost "Quality of life at work". A vorbit despre variabilele stării de bine la muncă: angajament, motivare, recunoaștere, respect sau empatie și cum sunt stimulate toate acestea, pe baza studiilor de climat organizațional.
Iată mai jos ideile principale:
Ce a însemnat pandemia și cu ce domeniu a început
Trecerea în online a companiei
Definiția Employee Experience
Misiunea companiei –  o experiență personalizată a angajatului lor
Beneficii oferite angajaților pe perioada pandemiei
Structurile transversale concentrate pe segmentele de clienți
Metodologia OKR
Key Result
Agilitate
Mindset
Apetitul de a accepta schimbările
Programul Talent Booster
Learn and relearn
Feedback culture
Platforma Peakon – platformă de HR
Engagement, interacțiune, comunicare, înțelegere, reacție
HR BP (BP=Business Partner)
Platforma BOB
Live my life
Smart work
Seatbelt Consulting, Office 365 – "prietenii cei mai buni ai companiei"
CSR – Proiectul Together for Tomorrow – Limit the COVID Impact
Stop Hunger – donații de calculatoare în zona rurală
Stop Hunger – Build Life Skills
Stop Hunger – Bring a smile
One size does not fil all
Employee wellbeing
Puteți urmări aici înregistrarea integrală cu prezentarea Feliciei Georgescu.
Pentru mai multe detalii despre eveniment și opiniile invitaților noștri, găsiți aici înregistrarea evenimentului.
Comentarii
Pe aceeasi tema








Share
About Author
(0) Readers Comments