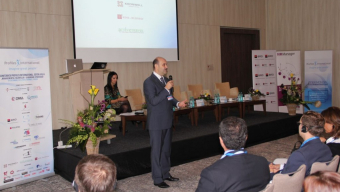 de LAURA DRAGNE
De la introducerea conceptului de "Gamification" in recrutare si training, la utilizarea jocurilor video ca instrumente de dezvoltare cognitiva, la cultivarea unui leadership constient si pana la integrarea celor mai noi metode de invatare online in sistemul de training al companiilor, Romania mai are multi pasi de facut pentru a se armoniza cu tendintele internationale din aria resurselor umane… dar ne aflam pe drumul cel bun!
Conferinta "Managementul talentelor-o abordare strategica" , organizata de Profiles International pe 8 si 9 octombrie in Brasov, a adus in atentia publicului subiecte actuale din domeniul resurselor umane, exemple de bune practici din diferite contexte organizationale, precum si noi instrumente de dezvoltare si evaluare profesionala a angajatilor. S-a discutat, printre altele, despre cresterea profitabilitatii prin dezvoltarea abilitatilor oamenilor de vanzari, despre engagement, coaching ca metoda de dezvoltare a competentelor manageriale, importanta programelor de CSR, impactul stilului de leadership asupra motivarii angajatilor, gestionarea performantei noilor generatii de angajati – Generatia Y si Generatia Z.
Gazda evenimentului a fost Doru Dima, Directorul National al Profiles International, care a subliniat importanta Managementului Talentelor in companiile din Romania ca urmare a intensificarii la nivel global a concurentei pentru talente, leadership si competente de specialitate.
Aflata la cea de-a XI-a editie, conferinta a reunit peste 250 de participanti, printre care manageri si specialisti in resurse umane din toate industriile, psihologi, reprezentanti ai autoritatilor centrale si locale, tineri antreprenori, oameni de afaceri, reprezentanti ai marilor companii de consultanta, lideri ai asociatiilor din diverse sectoare economice precum si speakeri de renume international.
Printre speakerii invitati s-au numarat: Deiric McCann – Vicepresedinte Profiles International, Irlanda, Stephan Atsou– Director Continental Europe, Cross Knowledge,  Enrico Banchi – Partener, Palo Alto School, Italia; Oussama Mansour–  CEO Profiles International Orientul Mijlociu, Daniela Lulache– CEO Nuclearelectrica, Desiree Diaconescu –Vicepresedinte HR URBB Romania, Dan Brumboiu– Director General Polipol Mobila, Adela Jansen-Director Executiv Resurse Umane, BRD Groupe Societe Generale, Paula Herlo – Senior Corespondent ProTV, Scott Hamilton – Chief Science Officer, Profiles International si Membru al Aociatiei Psihologilor Americani, Prof. Jimmy Hill– Decanul National College of Ireland, Lilia Dicu– Coach realizat la nivel international, Daniel Don –Director Executiv AJOFM Cluj, Arz Lorin –Country Manager pentru Romania, Fundatia Emfodo, Ana Ber -Managing Partner –Dr. Pendl and Piswanger Romania, Victor Dragomirescu –CEO Romanian Software, Alexandru Blemovici- Director Schaeffler Romania.
Ca si concluzie va las in compania cuvintelor Danielei Lulache, CEO Nuclearelectrica: "Nu exista deficit de talente, poate doar, in unele cazuri, lipsa unei viziuni manageriale care sa catalizeze talente pentru a obtine rezultate. Resursele umane sunt similare celor naturale. Trebuie sa le cauti pentru ca nu le vei gasi la suprafata. Trebuie sa creezi circumstantele care sa le descopere ".
 Laura Dragne, PR Specialist Profiles International
Comentarii
Pe aceeasi tema



Share
About Author
(0) Readers Comments