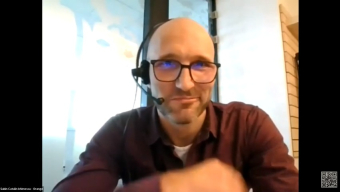 Sabin Cătălin Ichimescu, Training & Development Specialist la Orange România a prezentat proiectul Orange Money, în sens unic spre Agile în cadrul celei de-a XI-a ediții a seriei de evenimente FAST FORWARD. ORGANIZAȚIA VIITORULUI care a avut ca subiect:  THE CULTURE OF TRUST & AGILITY. Evenimentul este organizat de Revista HR Manager cu sprijinul Humanistic și a avut loc pe 24 și 25 NOIEMBRIE, 2021.
Evenimentul a pus sub lumina reflectorului organizația construită pe premisele unui nou tip de leadership, mult mai conștient, ce pune în mijloc starea de bine și echilibrul angajatului, prin construirea de relații sănătoase: Coaching Culture, The Culture of Trust – Cultura încrederii. Totodată, în lumina reflectorului a fost pus și conceptul de Organizație Agilă.
S-au dezbătut idei, inițiative, s-au  prezentat studii și proiecte implementate în companii.
Sabin Cătălin Ichimescu a arătat prin prezentarea sa cum ajuți o companie să știe, să înțeleagă și să poată lucra Agile? Cum au susținut companiile angajații în "noul normal" și cum s-a adaptat piața beneficiilor extrasalariale la noile realități.
În principiu, nevoia lor internă a fost să lanseze produse relevante pentru clienții lor, dar și pentru profitabilitatea businesului și ca să poată face asta au realizat că trebuie să implementeze un proces care să le asigure o conexiune directă cu clientul. A vorbit despre acțiunile deja în desfășurare pentru dezvoltarea unui mediu de încredere.
Aici puteți viziona discursul lui Sabin Cătălin Ichimescu.
Aici puteți viziona întreg evenimentul.
Comentarii
Pe aceeasi tema



Share
About Author
(0) Readers Comments