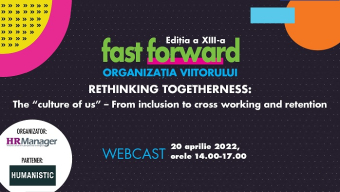 Revista HR Manager organizează cu sprijinul Humanistic, în data de 20 aprilie 2022, între orele 14:00-17:00, ediția a XIII-a din seria de evenimente online FAST FORWARD. ORGANIZAȚIA VIITORULUI cu tema: Rethinking Togetherness: The "culture of us" – From inclusion to cross working and retention
Evenimentul pune sub lumina reflectorului gradul de coeziune al echipelor, noul indicator pe agenda liderilor. Fie că vorbim despre apartenență, dorința de a contribui, munca interdepartamentală sau incluziune, dimensiunile din studiile de angajament la nivel global arată că acest "împreună" are nevoie acum de acțiuni susținute.
Tema de "împreună": este cu atât mai importantă cu cât mesajele din spațiul social se polarizează între pro și contra politicilor de incluziune: ce valori protejăm și până unde mergem? "Împreună" nu este și nu a fost niciodată doar despre politicile organizaționale, ci a fost despre acel sentiment pe care îl aveam în evenimentele cu toți angajații, pe coridoare, în ieșiri spontane în care căutăm ce ne unește.
Cum dezvoltăm mentalitatea pentru a întări cultura apartenenței în 2022, este întrebarea cheie a acestei ediții. Alături de profesionisți prezenți in dezbatere, se va intra in detaliu pe urmatoarele subiecte:
Ce proiecte revin în atenție în urma chestionarelor de cultură, angajament, stare de bine?
Cum putem susține noi, oamenii de resurse umane, Board-ul în a deveni și ei o echipa puternică de leadership care înțelege puterea echipei mărite?
Cum ajutăm la colaborare prin platforme dar mai ales dincolo de platforme? Ce inițiative au înlocuit team-building-ul fizic? Pe ce proiecte așezăm dorința de apartenență și atmosfera de pe cordioare?
Temele care sunt vizate sunt:
Engagement – strategii la nivel de cultură
Strategii de retenție: stay in interview, exit, programe de recognition
Proiecte de diversitate și incluziune
Training de abilități cross-working
Program de team coaching la nivel de board
Programe de integrare a noilor veniți – mai mult decât un onboarding
Instrumente și tehnologii care ajută colaborarea
Speakerii invitati in eveniment confirmați pana in prezent:
Roxana Mocanu, Game-Changer Officer Noosfera
Maria Dohotari, Human Resources Business Partner, Flex
Adina-Georgiana Marin, Head of People Business Partners Staff, Services, Energy Management, Digital Solutions & Procurement, ENEL
Maria Marcovici, Head of HR Communications Romania Human Relations Automotive Central Functions, Continental
Aurelian Chitez, Director of Sales, Romanian Software
Bogdan Albu, Country Manager, Admirals
Andrei Crețu, Co-Fondator Pluria, 7card
Moderatori ai evenimentului sunt:
Mihai ZÂNT, Business Coach, Managing Partner HUMANISTIC
Iulia Buciuman, Managing Partner HUMANISTIC
---
Toate prezentările și discuțiile se desfășoară în limba română.
În timpul evenimentului participanții au posibilitatea să adreseze întrebări prin intermediul unui chat live.
Participarea este gratuită și se face pe baza confirmării înregistrării.
Înregistrarea se face pe pagina evenimentului, unde se găsesc toate detaliile privind temele de discuție și vorbitorii acestei ediții.
Pentru detalii legate de organizare adresa de contact: evenimente@cariereonline.ro.
---
Parteneri: Noosfera, FLEX, ENEL, Continental, Colorful.hr, Pluria, Philip Morris Romania; Partenerul Academic: Bucharest Business School
Parteneri media: Revista CARIERE, BIZ, HR Club, Doingbusiness.ro, CONAF, Financial Intelligence,Jurnalul de Afaceri, Portal HR, HIPO, Psychologies, Repatriot, PWN Romania, Spotmedia, Wall-Street
Comentarii
Pe aceeasi tema


Share
About Author
(0) Readers Comments