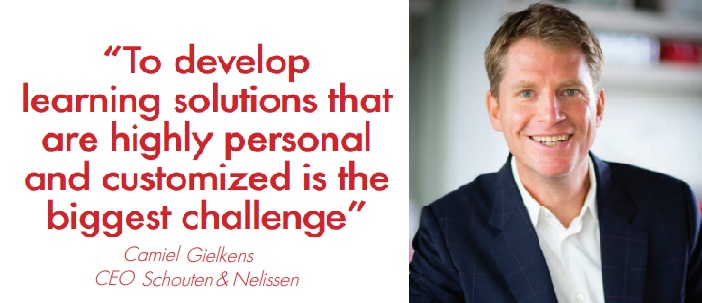 by EUGENIA MIHALCEA
Schouten & Nelissen will enter the Romanian market by integrating the local company Focus Plus. CEO Camiel Gielkens talks about the opportunities the company saw in Romania and how innovative their products will be.
WHY DID YOU CONSIDER ENTERING THE ROMANIAN MARKET THIS YEAR SPECIFICALLY? WE WERE WONDERING BECAUSE IN POLAND SCHOUTEN GLOBAL ENTERED 20 YEARS AGO.
From our start it has been our strategy to work with our clients where they need us. Together with key clients we have worked in Romania and with our colleagues from Focus Plus for several years and with great success. Growing demands from our clients in Romania have led to the decision to bring this relationship with Focus Plus to the next level.
HOW DO YOU SEE THE DEVELOPMENT ON THIS MARKET?
We are very positive about our future in Romania. We operate in a world that is highly complex and very uncertain. Working with many organizations around the world taught me that it is so important to be able to really understand your business environment and the challenges your customers have, be able to develop a vision that inspires and sets direction and be able to achieve a killer achievement together. And soft skills are crucial in achieving that. We work with organizations and their employees to realize exactly that and ensure they have better results, innovate more and are a great place to work.
What we see in Romania are a lot of young people who are eager to grasp the opportunities they see and are very eager to develop the necessary skills and attitude to make it happen. And we see a lot of organizations with high ambitions to grow in Romania and also internationally who look for new organizational set ups and skills that will help them to make the next step. In a fast-changing market like Romania it is impossible to make all decisions from the top. It so important to develop leaders at all levels of the organization who can take responsibility and drive business. This means top leaders need to be good managers and coaches. Both lead and create space for others to take the lead; become more agile and quick. More and more organizations in Romania want to invest in those kinds of skills and are investing in people development in general.
EVEN IF YOU COLLABORATE WITH HUNDREDS OF SPECIALISTS IN OVER 60 COUNTRIES, YOU HAVE OFFICES IN A COUPLE OF COUNTRIES IN VERY DIFFERENT AREAS? WHAT IS THE STRATEGY BEHIND THIS DECISION?
Our strategy focusses on clients and work with them where they need us. So, our offices are more a platform to support our clients globally and deliver value. They focus less on sales or marketing in their specific regions. This way we can support our clients where needed, but we are also agile.
WHAT WAS THE PROCESS OF INTEGRATING FOCUS PLUS? IS IT IN THE COMPANY'S POLICY TO INTEGRATE A BUSINESS PRESENT ON A LOCAL MARKET?
We have been working together for several years already. During this journey we discovered we share a lot of the same values: helping people and organizations to perform at their best by focussing on what they are good at and achieve things together they could never have dreamt of. We both have an extreme commitment to delivering more than we promised. And we both keep learning and innovating. In addition, of course we also share our vision on learning and methods. Therefore, Focus Plus is very complementary because they cover now the Romanian and East European Market.
TO WHAT EXTEND DO YOU THINK THAT THE MARKET VOLATILITY CAUSED BY THE MASSIVE EMIGRATION WILL AFFECT YOUR BUSINESS IN ROMANIA?
We see both as an opportunity because they increase the complexity of business and the need to work together in a different way. Organizations and their people need to adapt to these changes and also look at how to turn them into an opportunity. And that is exactly where we want to be of service.
WHAT TYPE OF LOCAL TRAINERS ARE YOU LOOKING FOR LOCALLY? HOW MANY OF THEM ARE SCHOUTEN EMPLOYEES AND HOW MANY ARE EXTERNAL COLLABORATORS?
We work with our existing team of around 10 full time trainers in Romania. And depending on client needs and the scale of a project we join forces with qualified freelancers in Romania or colleagues from our head office in the Netherlands. If needed, we can also train local trainers in our learning vision and way of working.
YOU ARE CURRENTLY WORKING WITH COMPANIES FROM ALL INDUSTRIES? WHAT INDUSTRIES ARE IN FOCUS FOR THE LOCAL MARKET?
We work with over 5,000 organizations globally who come from across all industries. Focus industries are the Tech, Retail, Financial Industry and Professional services.
WHAT DO YOU BRING NEW ON THE LOCAL MARKET?
We bring a unique combination to the market of online and offline trainings. Key elements of our approach are:
1) Personal: it is focused on the learner;
2) Adaptive: it adapts to specific learning preferences, and
3) Social: it uses the support and feedback from people near you.
In addition, we use a wide range of interventions to realize maximum impact like workshops, coaching, virtual sessions, games, and scans & tests. Everything we do can be offered in a blended format, meaning a combination of online and offline. We always measure the impact of everything we do. And we have specific test for employees to understand where they are in their development and help them to create a laser sharp focus in working on their next steps.
WHAT ARE THE MOST APPRECIATED TRAINING PROGRAMS THAT YOU PROVIDE?
Its all around leadership, soft skills and programs that increase the overall vitality and health of organizations and their colleagues.
WHAT ARE THE MOST INNOVATIVE?
We currently work with a leading global scale up company in the automotive industry. For the leadership team we have created a unique program with face to face meetings, online learning elements, nature events where they learn to work more effectively as a team and on online simulation that is specifically designed for them. So, it is highly tailor made, adaptable; we meet the client where they are every time we meet them and we strengthen how they work together on a more systemic level.
Another project that comes to mind is the work we do with a global company working in the agricultural industry. Together with our partner Crossknowledge we have designed a program with online learning modules, face to face coaching sessions and tests to monitor where each individual is in their personal growth and the impact they have on the whole organization.
WHAT ARE THE BIGGEST CHALLENGES?
To develop learning solutions that are highly personal and customized, and to create a strong culture within the whole organization. But also to support our customers with creating by in for strategic HRD and a learning culture. We all know we need it but. But how to strengthen it?
HOW IS TECHNOLOGY GOING TO AFFECT THIS MARKET?
New technologies have huge impact. And make learning more personal, adaptive and social. It really opens the door to make learning possible whenever and wherever the learner wants and create face to face experiences that really focus on experimenting with new behaviors and getting outside the comfort zone.
Comentarii