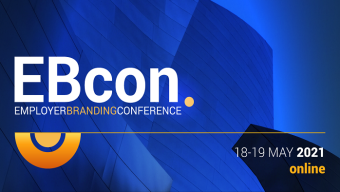 Catalyst Solutions anunță organizarea primei conferințe online internaționale, dedicată conceptului de "Employer Branding" în România. Pe 18-19 mai, EBcon 2021 aduce împreună în spațiul virtual specialiști renumiți din domeniu,  precum și numeroase studii de caz din diverse industrii pentru a construi o comunitate bazată pe învățare și împărtășire de resurse. Evenimentul va reuni peste 350 de profesioniști internaționali și locali, entuziaști ai HR, Marketing și Employer Branding și peste 15 speakeri care vor fi prezenți pe scena virtuală pentru a aborda tematici relevante pentru evoluția domeniului.
Datorită dezvoltării accelerate a contextului de business de pe plan local, precum și a competiției acerbe de pe piața muncii, România a devenit un punct important pe harta profesioniștilor de Employer Branding de la nivel internațional. Multe companii vin cu soluții din ce în ce mai creative pentru a atrage și reține acele talente de care au nevoie, iar numărul organizațiilor care îmbrățișează o abordare strategică asupra brandului de angajator este în continuă creștere.
"Importanța pe care specialiștii de Resurse Umane o alocă acestui subiect a crescut considerabil în ultima perioadă și a determinat includerea în agenda evenimentului a unei zile pline de conținut relevant și numeroase studii de caz din toată lumea cu privire la creșterea nivelului engagement al angajaților și transformarea lor în ambasadori ai brandului de angajator." – Alexandra Stancu, Employer Branding Consultancy Coordinator, Catalyst Solutions
Agenda evenimentului va reuni peste 15 speakeri locali şi internaţionali de la companii de top, cu o vastă experiență în talent attraction și Employer Branding, care vor împărtăși participanților insight-uri valoroase și tips&tricks despre cum își pot îmbunătăți semnificativ brandul de angajator chiar și în situație de criză.
Printre speakerii care și-au confirmat până acum prezența la eveniment se numără:
Jim Taylor, Managing Director of Ph.Digital @award winning EB agency Ph.Creative
Ruxandra Ciocirlan, Senior Relationship Manager – CEE @LinkedIn
David Thompson, Director @Employer Branding Made Easy
Estera Anghelescu, Recruiting and Employer Branding Director @Kaufland Romania&Moldova
Kirstin Birner Manager, Talent Operations EMEA @LEGO
Jonathan Jessop Batty, Corporate Narrative & Strategy Leader @IBM
Dumitrita Ghenciu, Employer Branding Strategist @BOSCH Romania
Tom Pattison, Employer Brand Specialist @Checkout.com
Emily Forbes, CEO and Founder @Seenit
Maria Dinu,Group Employer Branding Manager și Maya Tsankova, Group Employer Branding Communications Manager @Coca-Cola HBC
Michiel Das – fondator al Employer Branding Lab și Global Employer Branding Lead @SEAT
Maria Marcovici, Head of HR Communications Romania @ Continental.
Persoanele interesate pot accesa site-ul EBcon unde pot afla mai multe informații despre eveniment și bilete.
Comentarii
Pe aceeasi tema






Share
About Author
(0) Readers Comments