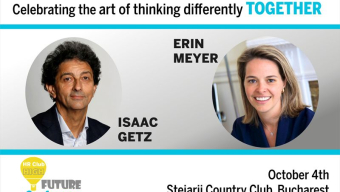 HR Club organizează HighFuture Conference, un eveniment cu speakeri internaţionali şi naţionali, adresat profesioniştilor din resurse umane, managerilor şi antreprenorilor.
A 13-a ediţie a conferinţei naţionale HR Club, HighFuture Conference, va avea loc în 4 octombrie, la Stejarii Country Club. Evenimentul va avea ca tematică viitorul muncii şi noi concepte şi provocări aduse de economia globală, dar şi de cea locală.
Speakerii internaţionali care și-au confirmat prezența sunt:
Isaac Getz – Professor in Idea, Involvement, and Innovation Management, ESCP Europe Business School, plasat pe locul 4 în top 50 cei mai influenţi gânditori de management din lume, conform studiului realizat în 2016 de FNEGE (Fundaţia Naţională Franceză pentru Management şi Educaţie în Afaceri).
Erin Meyer – Senior Affiliate Profesor în Departamentul Comportament Organizational al INSEAD, una dintre cele mai prestigioase şcoli internaţionale de business. În 2015, Meyer a câştigat premiul ,,On the Radar" oferit de Thinkers50 şi este clasată de HR Magazine în top 30 cei mai influenţi gânditori de HR ai anului 2016.
Speakerii din România care și-au confirmat prezența până în acest moment sunt următorii:
Ciprian Stănescu – Preşedinte Global Shapers Bucharest Hub (comunitate a World Economic Forum) şi Director Corporate Affairs & Membership al Institutului Aspen Romania. Ciprian a început recent a început să predea un curs de Futurism şi să construiască o comunitate de experţi în new tech prin platforma de evenimente Innovations for Tomorrow.
Mihai Dragomir – Membru fondator al Asociaţiei Mioritics. Este implicat în campanii de promovare şi valorificare a patrimoniului cultural naţional, dezvoltare de infrastructură şi servicii ecoturistice, programe educaţionale pentru tineret şi evenimente de promovare externă.
Mai multe informaţii despre HighFuture Conference se pot obţine accesând: AGENDA – SPEAKERI – DETALII SESIUNI.
Comentarii
Pe aceeasi tema



Share
About Author
(0) Readers Comments