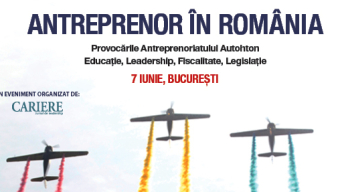 Revista CARIERE organizează un eveniment dedicat antreprenorilor, ANTREPRENOR ÎN ROMÂNIA, în data de 7 iunie 2018, la Hotel Residence Arc de Triomphe, București.
În cadrul evenimentului vor fi dezbătute provocările și oportunitățile antreprenoriatului în România, în 2018. Speakerii sunt antreprenori din România care au curajul de a concura de la egal la egal cu marile companii ale business-ului local și care creează oportunități acolo unde ceilalți văd doar obstacole. Sunt oameni care prin viziune și dinamism, printr-o luptă continuă cu piedicile birocratice, creează și cresc companii de succes.
Printre temele conferinței se numără:
Companie antreprenorială – vis sau viziune? Provocările unui business solid;
Despre cultura antreprenorială la romani. Aptitudini și comportamente antreprenoriale;
Educația antreprenorială. Rolul educației de business în succesul antreprenorial;
Antreprenoriat, intraprenoriat și speranțe pentru piața muncii;
Diferențe între leadership-ul antreprenorial și leadership-ul corporatist.
Key note Speaker: Stefano Colli-Lanzi, CEO si Fondator, Gi Group.
Stefano Colli-Lanzi a început în 1998 calatoria antreprenorială, fondând Générale Industrielle Italia, astăzi Gi Group. De atunci a urmat creșterea companiei ca președinte și CEO. Astazi, Gi Group este una dintre cele mai mari companii de resurse umane la nivel mondial, oferind servicii pentru dezvoltarea pieței forței de muncă. Compania este prezentă în peste 40 de țări din Europa, Africa, Asia și America.
Printre speakeri se numără: Felix Toma, Country Manager Gi Group România & Bulgaria; Bibiana Stanciulov, Director General Sonimpex Topoloveni; Virginia Oțel, President PWN Romania; Ștefan Dărăbuș, Director regional, Europa Centrală și de Sud Hope and Homes for Children; Oana Marinescu, Managing director OMA Vision; Ilinca Păun, CEO,  EA- The Entrepreneurship Academy, Dr. Lavinia Rașcă, Prof.Univ., Profesor Strategie și Antreprenoriat ASEBUSS, Director General EXEC-EDU și alții.
Moderatorul evenimentului: Daniela Palade Teodorescu, Redactor-Şef Revista CARIERE.
Evenimentul va reuni peste 100 de participanți: Antreprenori, factori de decizie, CEO din companii medii și mari.
---
Mai multe detalii legate de participare şi înscrieri puteţi afla de pe site-ul evenimentului.Pentru mai multe detalii despre eveniment, o puteți contacta pe Laura Gheboianu, telefon: 0726 768 079 sau pe email la evenimente@cariereonline.ro.
---
Evenimentul va avea loc cu sprijinul:Partener Principal: Gi Group România.
Partener Educațional: The Entrepreneurship Academy.
Partener Anual: Romanian Software.
Parteneri Media: Revista HR Manager, HR Club, Revista Biz, Wall-Street.ro, Portal HR, Doing Business, Jurnalul de Afaceri, Repatriot, Elite Business Women.
Comentarii
Pe aceeasi tema








Share
About Author
(0) Readers Comments