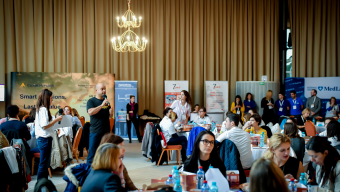 Revista HR Manager organizează pe 10 octombrie cea de-a treia ediție a HR [PLAY] Tech Marathon, singurul eveniment "playful" din mediul de afaceri local, un maraton de învățare cu regulament, provocări și premii specifice unei curse de anduranță.
HR [PLAY] Tech Marathon este un eveniment neconvenţional, care sparge tiparele unei conferinţe obişnuite prin faptul că implică spirit de echipă, competiţie, responsabilitate socială şi elemente de joc: înveţi, alergi şi dăruieşti!
Ediția din acest an aduce laolaltă o comunitate de profesionişti HR, lideri şi influenceri, care vor împărtaşi cele mai noi trenduri în materie de inovaţie, dar şi soluţii, instrumente, tehnici şi poveşti despre viitorul HR, precum şi despre adaptarea la schimbările aduse de acestea, într-un circuit dinamic prin cele patru zone de conținut care abordează fiecare în parte tematici diferite: "Team Performance", "Hold on to your talents", "Embrance and leverage technology" și "Focus on People and Culture".
HR [PLAY] Tech Marathon are la bază un concept care pornește de la psihologia jocului și exploatează toată gama motivațiilor participative, atât cele intrinseci, specifice oricarei competiții cât si cele extrinseci, determinate de scopuri umanitare. La fel ca în ediția anterioară, motivatia extrinsecă a participanților va fi activată de o componentă de responsabilitate socială. Efortul colectiv (al participanților,) mai precis "caloriile" arse în timpul maratonului, se vor transforma în rechizite care vor fi donate copiilor din grija Asociației Salvați Copiii.
Printre antrenorii cursei de anul acesta sunt: Corina Ghiațău, Organizational Development Manager Orange România, Crina Ilie, HR VP Europe & Africa, Genpact, Smarandita Schnel -Director HR BPO Telekom Romania,  Simona Popovici – Group Human Resources Director KMG International, Rompetrol, Andreea Ciulacu, HR Manager Deutsche Bahn Cargo România, Alexandra Culicovschi, HR Director FM România, Mihai Laurențiu Gânj, Managing Director IH Bucharest, Stelian Bogza, Commercial Director si Co-founder BenefitOnline.ro, Luiza Banyai, Manager Departament Dezvoltare Organizațională Enel, Oana Truca, HR Manager Skanska România, Felix Toma, Country Manager Gi Group România și Bulgaria, Luiza Simion, Business Unit Manager Wyser România – parte a Gi Group, Sorina Butea, Manager Resurse Umane Amrest Coffee, Mădălina Teodorescu, Senior Director, Human Resources, Avantgarde, Iulia Chapuis, HR Manager Avon România & Moldova și Marian Hanganu, Director de Vânzări Romanian Software.
Va asteptam la acest eveniment unic in România cu o oferta de nerefuzat. Puteti beneficia de oferta speciala 100 Euro + TVA / 2 persoane daca ne confirmati participarea pana marti, 3 octombrie.
Pentru informații suplimentare și înscrieri, vă rugăm contactați-o pe Laura Gheboianu: laura.gheboianu@cariereonline.ro (telefon 0726.768.079) sau consultați pagina evenimentului http://www.hrtech.ro
Comentarii
Pe aceeasi tema







Share
About Author
(0) Readers Comments